"Whaddya mean Baranaby's not coming Nige?" a near hysterical Lucky squeeled, "He's our best street cred, our only street cred. How're we gonna order those big beers we always get if he's not there???"
"Yeah nuh, rest assured Lucky" and, turning to Moey, "Don't worry Numnuts, I'll do the ordering" replied Nige, pumping himself up to his full still-under-six-foot-chest-out-tummy-in grandiosity. This seemed to calm Lucky down but he remained unconvinced despite Nige's guarantees and settled back into his luke warm Maccas babycino. "Well I hope you're right Nige 'cos I like beer a lot." Yeah nuh, not as much as me but." "I know, I know" conceded Lucky.
It was the middle of winter and numbers were down. Moey, Lucky, and Nige were it. "Why isn't Barnaby coming anyway?" asked Lucky. "Dunno Meister. It's cold and he probably couldn't fit his fluffy slippers into his make-up case or something." Yep, Nige was in full flight but, again, it seemed to satisfy Lucky. "Oh yeah, that makes sense. It is cold"
At this point Moey, who had been listening to this exchange with only minor interest (having heard them many times before), shuffled off for another half-decaf-skim-milk-soy-dusted-caramalised-butterscotch-latte in a ladies slipper. "I dont care if people stare he said, they're delicious and I love them." "I'll finish this and we can go" Ten minutes and ninety six sips and "Ah Lovelys" later we headed out towards Gunnedah.
It was pretty cold heading through Wollombi and a quick stop at Broke so Lucky and Moey could top up and Nige could retell us the advantages of his BMW's fuel tank. "Its bigger'n the Hindenberg boys and goes just as good." "What's that smug look about Brian? Why're you giggling Lucky?" But Lucky and Moey kept the joke between themselves. "Oh the humanity!!" whispered Moey and both snickered all the way back to the bikes. "Idiots" mumbled Nige.
The rain stayed away and we rode on to Denman pub for a bit of lunch which was okay in a not-a-pie kind of way. From there it was on to Willow Tree for a quick beer and a stretch. Back on and we were off to what Nige had said would be a dirt track up and over the hills before the last stretch into Gunnedah. "Wouldn't it be great if they seal that section" Lucky said and when we got closer we could see all the heavy machinery in the middle of doing just that. The strong smell of fresh tar was quite enticing as we slipped and wobbled our way for about ten ks over it till we were back on decent bitumen.
And so we arrived in Gunnedah around 4 in the afternoon and immediately went looking for The Gunnedah Hotel.
And so after turning around and whooping with delight, Nige led us in. "Now remember Lucky, I'll do the ordering." " Three large scoopers please madame wiff froff on the top." "You city boys are yers?" the well-worn serving lass asked after a quick up and down of each of us. "Did yers bring rain with ya" whilst deciphered Nige's order. "Hereya love" placing three schooners on the bar. "See told ya we didn't need Barnaby" announced Nige proudly.
We took turns in ordering scoopers for the rest of the evening and this made us very weary so we each retired to our newly renovated rooms. Nige demanded the best room as usual and received the same respect from the staff as at every other hotel we had stayed at ever in the history of us staying in pubs.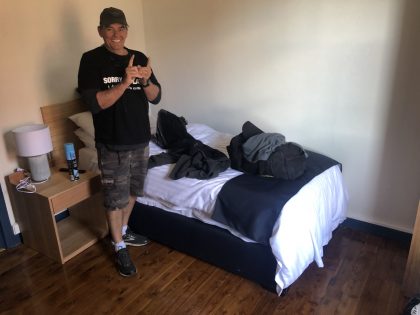 Nige's room.
Next morning the sun was shining but it was even colder. At 8 it was 1 degree but by 10 it was 7. Perfect. Lucky had heated grips and seats and was toasty warm. He gently nudged the starter button and the Tiger responded with a gentle mew and settled into a contented purr. Moey pushed his starter button and Old Sir Fallapart erupted into life with a pleasing crackle and quickly relaxed into a menacing growl. Nige beat the cowering GSA over the tank and windshield with a bucket he'd found "Out back" and it started too.
We filled up, not Nige, and headed south-east towards home. Now out the back of somewhere and at go-to-gaol speeds Old Sir Fallapart took a stone through the radiator and began spewing steam and boiling water. Off with the tank and it was a hearty all-the-best-Brian-I'll-tell-Anna-you-love-her farewell from Nige who continued on homewards leaving Moey and Lucky languishing by the side of the road.
AND THEN HE WAS BACK!!!!!. "Ya wouldn't believe it Brian but there's a small town ahead and they had pepper and water for sale. I thought youse two could have that for dinner while youse wait for a miracle" "Nige!!" said Moey. "You glorious man, you are the miracle!! I can use that pepper to seal up the hole in the radiator and the water can top it up!!" "Yeah nuh" said Nige "You'd need a much grainier blend of pepper to seal this" "Nuh yeah, this is perfect" said Moey "Watch this" And it did. With a bit of fiddle-faddling along the various fuel and food stops along the way, Old Sir Fallapart stayed together all the way back to Jerrys.
So coffee and such and manly hugs at Jerrys ended the adventure. Nige was still insisting that the fine ground pepper will never seal up the hole and Moey insisting that it already had, pointing to the dry ground now under the ZRX.
"No it hasn't" said Nige after an uncomfortable pause.