Now that's a title for a story that could go anywhere. But it doesn't take any nasty turns really. After our last ride to Mudgee we were all talking about where we could go next.
"Haven't been to Gunnedah for a long time" Suggested Lucky
" It was about a month ago old son" pointed out Moey.
" I know a man in Gunnedah who will give us a deal on rooms at the Gunnedah Hotel. Heard of it?" Rocky asked
"Yeah Nuh, like we practically live there" piped in Nige with a sense of hopeful urgency. "Do the deal Rocky!"
"Splendid idea chaps. Count me in" Boris said. "Time to thrash the 800 before I trade it in for the 900"
And so it was decided. Rocky booked and paid for the rooms and we all gave him cash as part of the unspoken gentleman's agreement clause so important to club traditions. Despite one case of Covid reported somewhere well south of Sydney and weather looking iffy, Rocky, Boris, Nige, Moey, and Lucky packed their plastics and agreed to meet at Jerry's for departure. This, of course, was not without some protestations from one angry club member.
"Youse lot seem to forget that I'm the President of this motorcycle club and I decide where we leave from. The weather looks ordinary and Lucky, you always ride down and meet me at Maccas and that should continue. It's a tradition dammit!! Don't traditions mean anything to you? Huh, huh, huh???"
"Well not as much as you might think Nige." replied Lucky with uncharacteristic cheek. He turned and quietly whispered something to Moey.
" It's like something you always do old son" whispered Moey back to lucky.
"Thought so, but words can be tricky." Moey gave Lucky a little paternal pat on the head.
Anyway, as agreed, we gathered at Jerry's and headed west through Wollombi and round the back of Jerrys Plains to Denman for lunch. Nige led out and didn't turn on his intercom because he was still a bit miffed about his traditions. Lucky listened to his own tunes and Boris and he chatted amiably from time to time about weather conditions and roads and such. It was nice.
Denman was Denman. Good food. Lucky had a very nice King Prawn Fettucine and Boris shouted us all Lemon Lime and Bitters. Rocky was showing off his new suspenders, Moey was watching Nige closely and looking for any opportunity to wind him up a bit more, and Boris was watching the whole show with a dignified aloofness. Pretty typical. Then we were off again.
With Nige leading out again and watching for clouds, "You promised me no rain Lucky but all my apps say it will.", we made good time to Merriwa and then on through to Willow Tree for fuel. Not Nige of course but he waited patiently. "Hurry up youse before it starts raining. My apps are never wrong." It didn't rain.
With full tanks but emptying bellies, Nige led us on to Quirindi for coffee and cake. The little Asian women in the shop took a liking to Lucky's Tiger because "It's a velly nice red" but this frightened and embarrassed Lucky so no more was said about that. Now at this point Nige had been banging on about an alternative route that would take us "a more circuitous route and be more interesting for youse" There was some enthusiasm from a few but we were unsure about whether the road was sealed so we asked a local cowboy about it.
"Whall now pahdnah" he began "Y'all might want to avoid that particilar stretch on account o' the grain wagons and the tumblin' tumble weeds, you know, sorta driftin' along" Confused by that and his face all full of pie we decided to trust him and his little dawgie and stick to the regular route.
As it happens he was right and we still made pretty good time out to Gunnedah. A quick shower and allocation of rooms. Lucky got the littlest room 111 and Nige the biggest 110 but Lucky slept the best whilst Nige, despite an actual corridor to his palatial en-suite, got no sleep once again. "Too noisy, too hot, and I think somebody must have put a pea under my mattress because I was very uncomfortable" We all sighed and felt terrible for him except Moey who might have called him a whining little princess but also might not have.
That night we ate in the Italian Restaurant attached to the pub. Food was very good and Moey graciously paid the tab. Pizzas and Osso Buccos and other assorted meals as well as a couple of bottles of merlot followed by gelato. From here back to the lounge where, as usual, nobody had ever heard of port. "Galiano it is lads" cheered Rocky and called first round. Somebody went second and somebody went third and so on. It was very civilised. Around 11 we all toddled off to bed where four slept well. Giggles.
Early start next morning when all but Moey, who had had the deepest sleep of all, went for a walk around town and then met up with Moey at the "Jack and Jill" cafe for breakfast. Service was always fast and courteous but this morning things went awry. The delightful young waitress came out to tell us ( after a while anyway ) that the cook had to "Go out" so breakfast might be delayed 10 mins or so. 40 mins later, starving, Boris decided he would handle this and with a bunch of "I says" and "I do beg your pardons" as well as a bunch of other educated phrases we had never heard before, breakfast arrived. All were very pleased except for one angry man who described his scrambled eggs as "Slop" Moey had found an old dummy out on the road and presented it to that angry man, "Here you are old son, see how far you can spit that" We all laughed loudly and Rocky cheered of course.
After this debacle we headed back to our rooms to pack and meet downstairs. Lucky locked his helmet in his room and had to hunt down cleaning staff to get back in but other than that all went relatively well. There was some confusion about which motorcycle Moey had brought this time.
"Is it Old Sir Fallapart or New Sir Fallapart" asked Lucky
"Or is it The new Old Sir Fallapart with shorty muffler or the old New Sir Fallapart with gold wheels and didlybobs?" asked Nige.
"It's a splendid machine either way" Boris added.
"Huzzah for New Old Sir Fallapart and Old Sir New Fallapart" Rocky cheered.
"Its Rex" said Moey
"Nuh. Too confusing" said Lucky to nods of agreement all round.
Now talk about confusing, when you leave the Gunnedah Hotel you have to hand in your key to a special metal box on the wall near the exit. Nobody is sure what kind of people stay here but some must really struggle with instructions.
And then we were off for home. We did stop and look at a few of the Silo Trail participants and they were pretty good in an arty kind of way.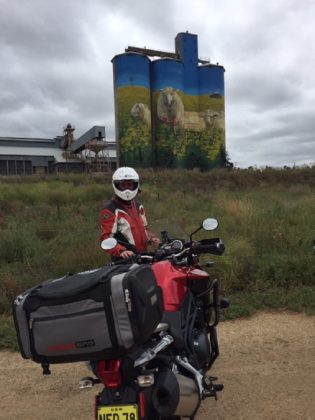 In Merriwa.
The trip home was cold and windy but the roads were up to the usual good standing. We went though Tambar Springs and on to Coolah where we turned to the winding, hilly roads that eventually brought us back to the Golden Highway and on to Merriwa for lunch. Pies. From here it was the usual quick bursts of overtaking trucks and cars until we reached the turnoff to the Putty Road. Nige and Moey stayed on the Highway and headed north to the Hunter expressway where they soon lost touch with each other anyway. Rocky was supposed to go with them but inexplicably turned towards an industrial estate and the last we saw of him was the back of his lovely BMW heading towards some giant smoke stacks. He may still be there on some assembly line turning out brass spigots. Hope not. Meanwhile, Boris and Lucky chose the more sensible Putty Rd to Broke to Kulnura and coffee and warm welcomes from Amanda and Jerry. A quick manly cuddle, nothing suss, and we too parted ways as Boris headed south to the new North Connex and home.
It didn't rain on anyone at any time.
You're welcome.