The Celebration of Retirement Ride
On the 26th of May Mohawk, Nige, Johnny Killswitch and DD gathered at Tuggerah McDonalds for the inaugural Celebration of Retirement Ride. The forecast was highly favourable with unseasonally warm weather. After some trivial banter and venting we headed off with high expectations (he was a late inclusion in the ride). Moe was ride leader and we headed towards Bendemeer.
We headed out through Yarramalong towards Wollombi (I was disappointed that we didn't stop at Gerry's for coffee). Then onto Singleton, Dungog and to Gloucester.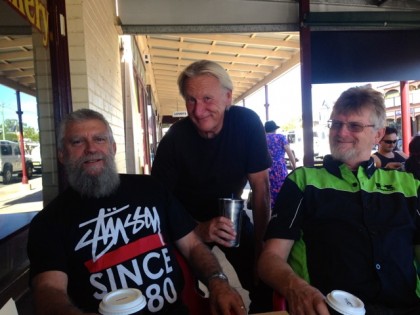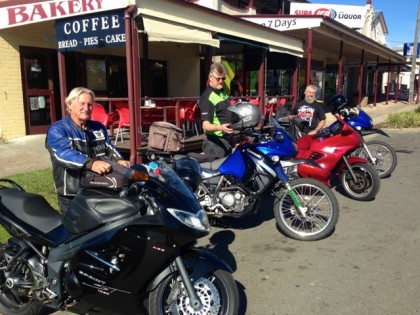 Ahh the country feeling as we cruised into Gloucester and stopped for fuel; birds chirping in the trees, cows lowing in the hedgerowed paddocks, locals whistling through pieces of straw and calling "How de doody!" Next minute the spawn of Satan roars into the servo in a Lucifer-black armour-plated personal carrier and screams to a halt in a cloud of dust and sharp rocks demanding to be serviced with high-octane aviation fuel. The retired gents were in the midst of refueling their noble steads and whose weapon happened to be in the way of the cacodemon's access to the pump? Yes, Johnny who was feeling a strong desire to strain the potato's and as he returned was accosted by the fiend. John held his cool but because he had been involved in three altercations over the past few days in situations which were quite confrontational had to be restrained by his riding companions from drawing his pistol containing a silver bullet. The ghoul, vomiting verbal filth, stormed into the service station to pay and then roared away to intimidate some other innocent poor soul. I'm sure he was a top bloke, he just had a bad day.
After our close encounter with the fires of hell we headed off pleased to be on the road again. Every small coffee establishment along the way received our patronage until we finally reached Walcha where were we disappointed once again by the Café Amour. Then into the sun we rode on the final leg to Bendemeer.
The pub was very salubrious with what I think were the best rooms in which we have lodged.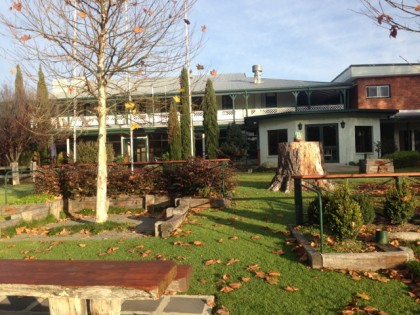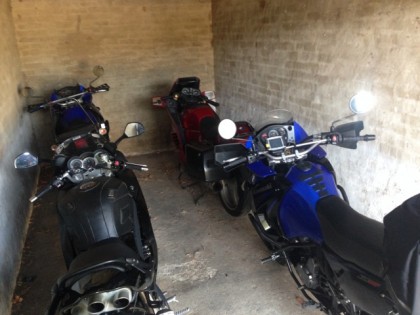 After settling we had a few quiet ales and dinner.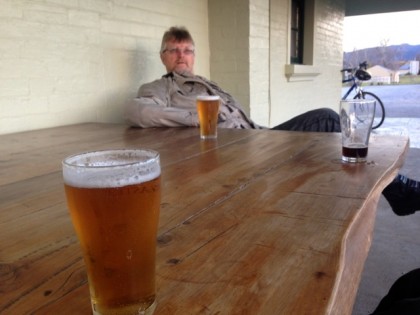 Nige got unusually quieter as the night wore on and we had a very pleasant evening until the pub was closed about 7:45 p.m.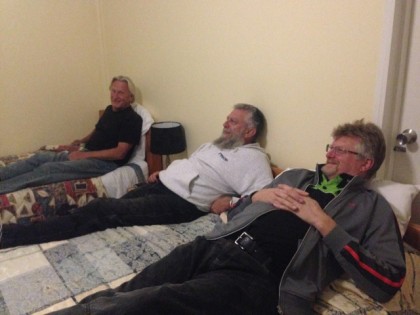 The 27th greeted us with yet more glorious weather and DD said "ripper". We followed the previous day's route home stopping at Gresford for a cuppa and experiencing some very enjoyable stretches of road. We had a close encounter with a member of the constabulary but he either didn't see us or was more interested in some other objective.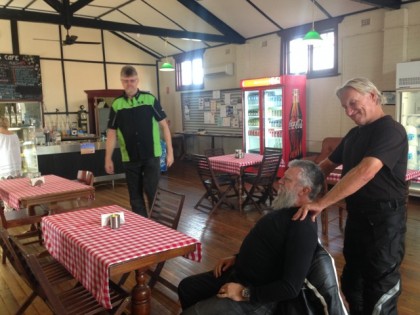 Many thanks and appreciation to Moe on an excellent ride.